Here at Powerflex, we are always striving to innovate and develop new parts to improve and enhance our portfolio of products.
Over the last few years, the increase in popularity of our engine mount inserts has made us aware of the lack of performance engine mounts suitable for both street and track use.
Listening to market feedback from BMW owners initially, the focus was to supply a replacement for the oil-filled, often soft and torn mount that wouldn't ruin the street driving experience by compromising NVH transmission, but would improve and increase engine control.
Not an easy task, but a challenge we were happy to accept!
After many months of development, we are pleased to be releasing PFF5-4650, our 'tuneable' Engine Mount.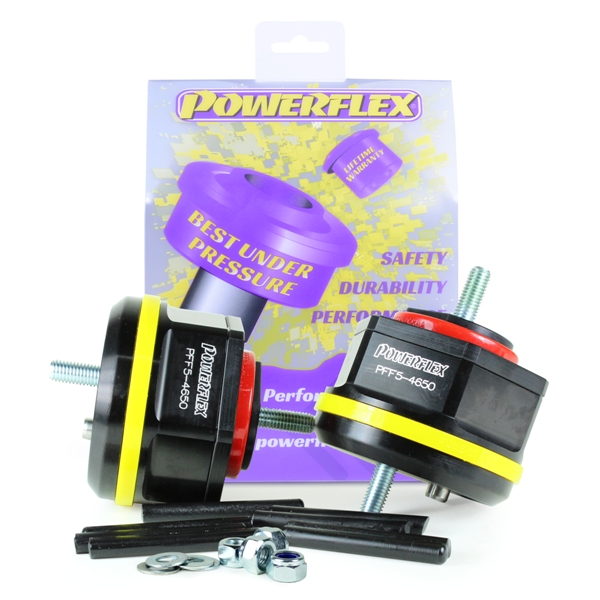 This mount is designed to fit 4, 6 and 8 cylinder 3-series BMW. Fitment includes E36, E46 and E9x M3 only. It will fit diesel models, however, there will be a noticeable increase in vibration at lower rpm levels.
The black anodised body of the billet-aluminium CNC machined mount houses 2 polyurethane bushes with special fluting and shaping (Red 65A and Purple 80A) to isolate the engine vibration from the chassis.
What makes it 'tuneable'?
Whether it's a daily driver, or track weapon, PFF5-4650 can be tuned to suit. It comes with 4 insert pins which can be fitted into the mount whilst on the vehicle. With the pins fitted, it fills internal voids stiffening the mount by around 25%. This makes it ideal for improving the car for the occasional track day, and when finished the pins can be removed without suffering any excessive NVH.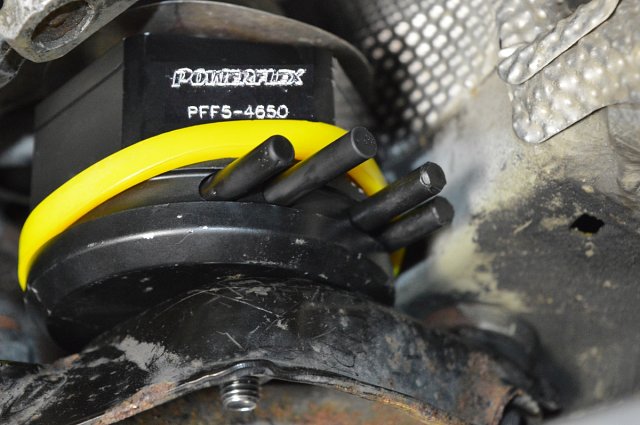 With the popularity of our Black Series parts with BMW owners, we are also offering the mount with Black 95A durometer bushes fitted.
With the pins included and this super-hard configuration, the increased load for the same given movement is a whopping 675% at 4mm over the standard M3 mount. As you would expect there will be a significant increase in NVH, making it suited to the hardcore enthusiast only.
Please watch our videos on how the mounts were made and a short fitting video of the mount being fitted to an E46 M3.
For further product news and information about our sponsored drivers and championships why not follow us and share our news on Facebook, Twitter, and Instagram
PFF5-4650 Introduction from Powerflex on Vimeo.