Following over five years of successful sponsorship of the Mini Challenge where competitors battle it out in the latest Mini F56 JCW, we're still finding areas to improve and this time it's to further develop the already impeccably sharp handling.
With this in mind, this week sees us launch a new product for the Mini F56 and associated platform vehicles to provide a fixed amount of caster offset for better grip and steering feel.
PFF5-1302G Front Arm Rear Caster Offset Bush is a CNC-machined Aluminium mount with polyurethane bush providing approximately 1 deg of caster offset to improve in-corner camber gain without compromising straight-line traction.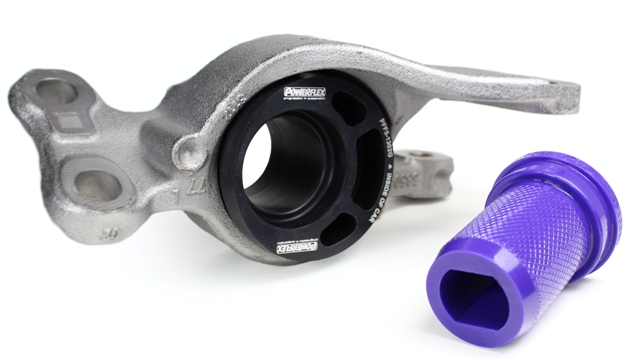 To fit the following:
BMW 1 Series F52
BMW 2 Series Active Tourer F45, F46
BMW X1 F48, F49
BMW X2 F39
Mini F55, F56
Mini Cabrio F57
Mini Countryman F54, F60
Tested and proven on championship vehicles, these parts improve the handling on any track, race or road-going Mini and as a result, they are also available in our Black Series range for those looking for a Track / Competition option.
For further product news and information about our sponsored drivers and championships why not follow us and share our news on Facebook, Twitter, and Instagram.