Powerflex introduces VINI the V8 MINI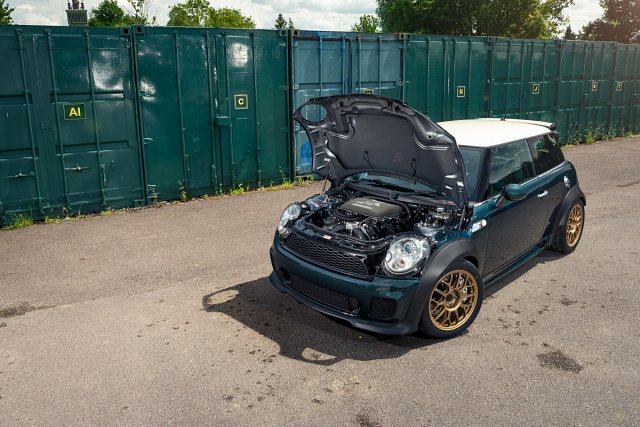 For the last four years, we have been building an outrageous promotional tool.
The purpose of this is to attract people to our business and make them more familiar with our brand, whether that is through social media or at the many events and exhibitions we attend.
Like all good projects this one got completely out of hand, but the result has been well worth it.
VINI is a project which conclusively proves that a pint can indeed be squeezed in a half-pint pot. It is a mind-boggling partnership between an R56 MINI Cooper S and one of parent company BMW's most highly acclaimed V8 engines, the naturally aspirated 414bhp 4.0-litre S65, as experienced in the fifth-generation BMW M3.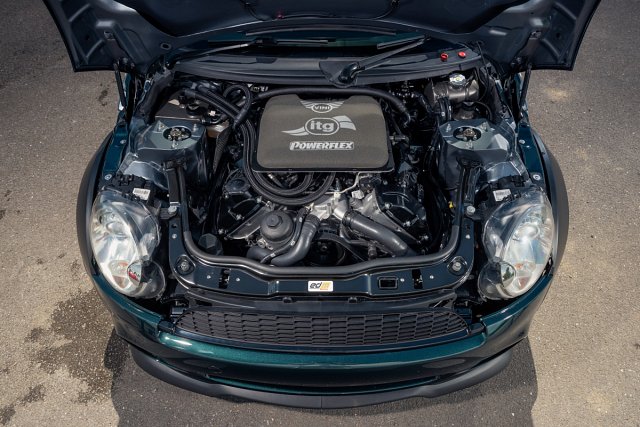 Whilst the direction for the project was led by us, ED Motorsport had the creativity, ingenuity, and skill to produce this outstanding car.
Also joining us in this endeavour were Litchfield Motors, Alcon, Tilton Engineering, Bilstein UK, Forge Motorsport, Goodridge, Aero Tec Laboratories (ATL), ITG Air Filters, Cobra Seats, Lifeline, Racelogic, Syvecs Powertrain Control, AiM Technologies and Braid Wheels.
We knew that if we produced a wildly branded purple and yellow car then much of the serious media outlets would ignore us. We wanted something subtle, stylish, and understated. The brief during the whole build was to keep the external panels and profile as standard as possible while turning the inside and underside into pure touring car.
As a result, VINI the Powerflex V8 MINI is an iron hand in a velvet glove: an utterly usable and road-legal piece of engineering art that is as comfortable on the track as it is on the road. Nevertheless, with 440bhp (with freer-flowing exhaust and intake systems than stock) on offer within a short wheelbase body that tips the scales at little more than 1,300kg, VINI can impress with both looks and performance.
The engineering was completed last week, and we showed it at the Goodwood Festival of Speed after issuing a press release to announce its presence.
To say that the car was a success both at Goodwood and around the world would be an understatement.
Hundreds of people said they had come to Goodwood specifically to see VINI and those that did not know about it were pouring over it, looking at the incredible detail.
The press published our release in huge numbers. Very serious publications and websites from Australia to Vietnam published, with each one telling the story of the Powerflex Mini.
Have a look here to see what was published in your country.
VINI will be seen at events and tracks over many years to come. Being road legal we can have multiple magazine and press tests. We are even planning a US tour!
The full Press Release and Hi-Res images are here and for more details on the build, you can see a long-running post on the UK's most popular car forum, Pistonheads.